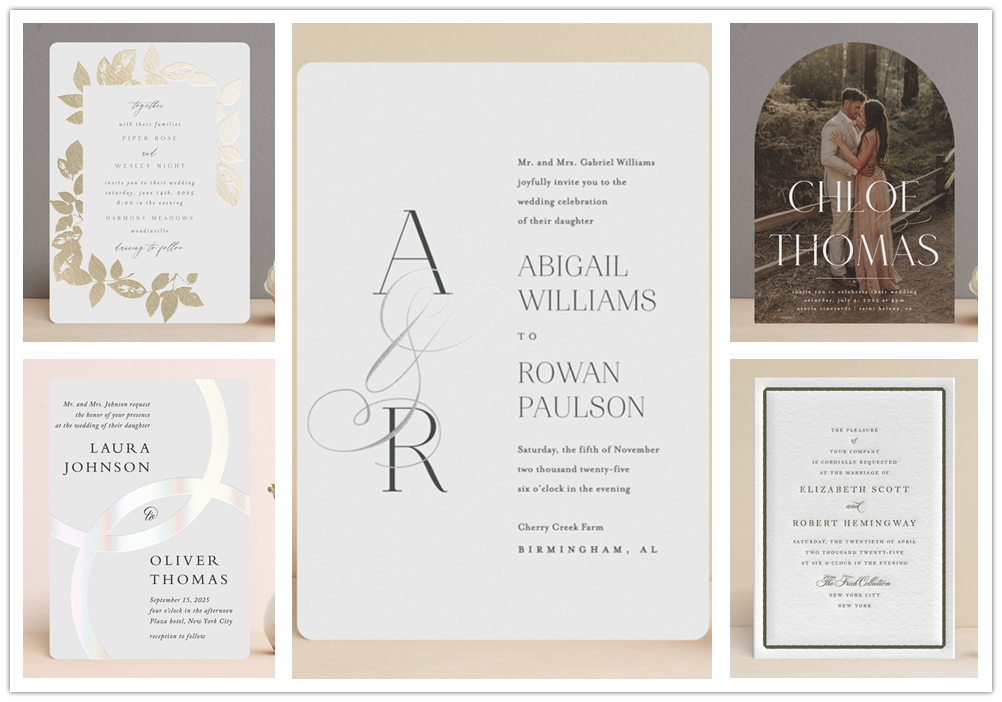 No matter how small or big your wedding will be, you'll definitely need to send some wedding invitations. There are numerous patterns, styles, and colors available on the market, and in some cases, you can fully customize them, as well. Let's have a look at some unique wedding invitations provided by Minted.
Created by Jessica Williams, this wedding invitation features a stylish foil ampersand and allows the engravement of your and your partner's initials. Both the color theme and foil color can be fully customized and the shape of the final card may also, vary depending on your preferences.
A colorful floral wedding invitation inspired by nature, this card is perfect for the celebration of your special moment in a cheerful way. It is made of Signature Paper, which offers a velvety cotton texture. The bouquet of flowers surrounding the names makes the invitation cute and beautiful at the same time.
If you wish to set a more personal note to your wedding invitation, then this style of card is a great option. You can add the portrait of your engagement up on the front and choose different color themes, including dusty, navy, or rust. Alternatively, you can add a picture of you and your partner in a special moment, like you first date.
An interesting, mysterious wedding invitation featuring a misty mountain landscape, this card is perfect for couples wishing to create a mysterious atmosphere. The Terra Mystica card is contemporary and sophisticated, as well. You can choose between different foil colors and the dimensions are 5" x 7".
This original design is inspired by Japanese culture and depicts birds, and flowers in a colorful environment. It is elegant and luxurious at the same time and promises to make your guests remember it. It features Minted Signature paper that has a versatile off-white hue and velvety cotton texture.